If you read enough of the articles on this website and then the question and answer session that follows you will see that the perplexing issue of do I have to take my Subaru to the Dealer as well as "Should I take my Subaru to the Subaru Dealer?" often comes up.
I want to address the first part, the factual answer to this question is only for warranty work!  The Magnuson Moss act prevents the Subaru Dealer and SOA (Subaru Of America) themselves from ever denying you warranty repairs because you chose an aftermarket service provider for your Subaru or even if you serviced your Subaru yourself.  A good shop will have your Service records and even push those records to Car Fax just like the Subaru Dealer does.  All that matters is that the car is serviced and maintained properly using the proper fluids, filters and components such as pictured below and at the proper intervals.  Who you choose to service your Subaru is your choice.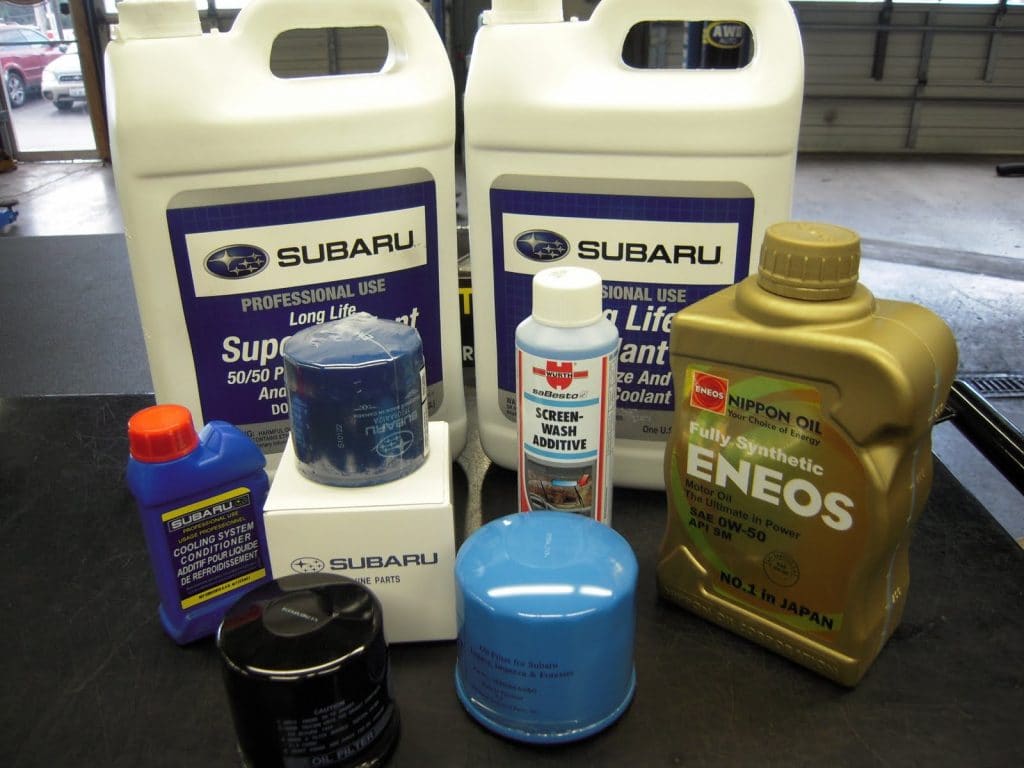 The Subaru Dealer may try to convince you that you must return to the Subaru Dealer for service to maintain your warranty, but that is simply not true.
Should I take my Subaru to the Dealer for service?
That really depends on the type of shops you have around you. Here in the Northwest there is an abundance of Independent Subaru Repair Shops, many within 20 miles of Seattle.  In other parts of the country you may not be so lucky, but that does not mean the Dealer is your best option, this is mostly due to how the employees at a Subaru Dealer are compensated, the Tech's are paid based on a flat rate pay system and the service advisors based on commission.  The more you spend the more their paycheck is.  Ask your self, whose interest are lined with who is this scenario?  You should consider locating a good Independent shop that is familiar with your Subaru if at all possible.
Subaru just like every other car company loses a little money every time a repair is done under warranty, as such technicians will never go looking for warranty work.  If you have been to a dealer service you may have observed retain terminology such as "customer states" or "unable to duplicate concerns". The terminology is key in order for a Dealer to be reimbursed by Subaru for warranty repairs.  As such if someone independent of the Subaru dealer network doesn't help with the service of your vehicle you may be leaving money spent on repairs after the warranty expires on the table.  The single biggest example of this is Head gasket repairs made at 60,000 miles as an out of pocket expense which would have been covered if it could have been caught.
The technician at a Subaru dealer may look the other way unless prompted to look by instructions on the service repair order for an oil or coolant leak but somehow magically see it a couple of ,months after the warranty expires.  This is largely in part because of how he or she is paid.  Repairs made under warranty and paid by Subaru can pay 60% less than the same repair if you pay for it.  This fact is the fundamental reason it can be so hard to have resolution to the simplest of quirks with any car under warranty.  It's not that the technician is a bad person, it's just that they like you have bills to pay. Time spent driving a vehicle listening for a noise is on them and any repair will be done for less money than what is known as "customer pay".  It's just easier to state "unable to duplicate customers concerns".
At a good independent Subaru shop like All Wheel Drive Auto, we will go the extra mile for you, this is primarily because many automatically perceive the Subaru Dealer to be the expert,  where we have to prove it to you sometimes everytime we see you, we want to be better than the Dealer because we know we already are. The Subaru dealers just assumes they have your business and many Subaru owners just don't make them earn it. A good independent Subaru Shop should be able to save you up to 20% on factory scheduled maintenance services, at a dealer these services can be very expensive, they are meant as a make up to the Technician for wages lost on warranty repairs.  During the service the quality of the inspection is key especially at the 30,000 mile interval prior to the 3 year 36,000 mile warranty expiring and then again at the 60,000 service (which you must do early) before the 5 year powertrain warranty expires, I have time and time again seen cars come into the shop just out of warranty for expensive repairs I know we're most likely evident before the warranty expedited if someone would have just had a look.
So in closing,  if you live in an area with repair shop choices give a good Independent Subaru Shop a try.  If the choices are limited where you reside at least  hold the Subaru dealer to a higher level, don't let them just look the part.
Thanks for reading
Justin Stobb
Helping you get more from your Subaru!