I have been receiving some bothersome comments to the Blog and through email as well. Generally speaking when I have 5 or more similar type comments, or questions I like to provide some factual information to help Subaru Owners. Lately I have heard a few instances where the dealer is either upselling conventional cars to synthetic oil, or not changing oil when it's due citing it's synthetic and it doesn't need to be done yet. To those I would say they should read what the car maker is actually saying.
I thought I would post the most current Subaru Document that specify the type of oil to use in which Model Subaru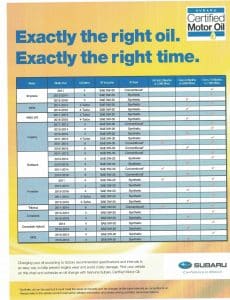 As well as a link to a printable PDF.
The schedule is for normal use I will add, please refer to the owners manual for the definitions of normal use to determine if how you use your Subaru is "normal" or "Severe"
I would also like to note the following, synthetic oil can be used in place of conventional or blend, but the intervals do not change.
If you follow the normal use schedule be sure to at least check your oil post last oil change at what ever interval makes sense to how you use the car, for some this is every other tank of fuel, for others they now there Subaru uses no oil until 3000 miles. DO what ever you want just done let your Subaru run low or to long on oil.
Hope that helps & Thanks for reading!
-Justin